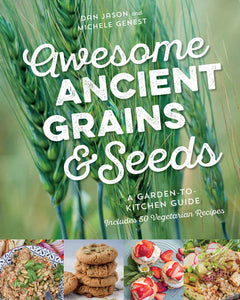 A Garden-to-Kitchen Guide with 50 Vegetarian Recipes by Dan Jason and Michele Genest
Customers of Salt Spring seeds will recognize crops I've been promoting for over 3 decades. Now you can read about many of my personal experiences with wheats, barleys, soybeans, flax, quinoa, amaranth, buckwheat and hulless pumpkin seeds. Easy to grow and delectable to eat, these ancient seeds and grains are the nutritional powerhouses that sustained civilizations for thousands of years.
This book was awarded a Gold Medal by the Independent Publishers Association.

208 pages with 100 colour photographs
Sale price $20 instead of $25.