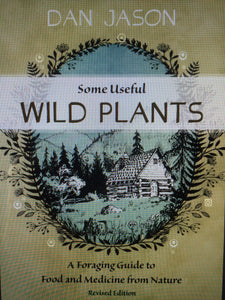 First published in 1971, this book was reprinted seven times and is still one of the all-time bestsellers in British Columbia. I am so happy that Harbour Publishing has decided to revise and print it again for a new generation of foraging enthusiasts. There are close to 200 descriptions of common herbs, shrubs, trees and seaweeds that can be used for food and medicine. Most of the edible and medicinal wild plants included can be found throughout North America.
    Over the years, I have encouraged many of these nutritious/healing field and forest plants to thrive in my own gardens, where they persist with minimal care compared to most cultivated crops. You can too! Salt Spring Seeds offers seeds of Alfalfa, Nettle, Miner's Lettuce, Yarrow, Red Clover, Goldenrod, Nodding Onion, Mullein, Plantain, Purslane and Valerian.
   With the original beautiful line drawings of Robert Inwood.
   Now available!
   Softcover. 192 pages